Professor Cedric Hassall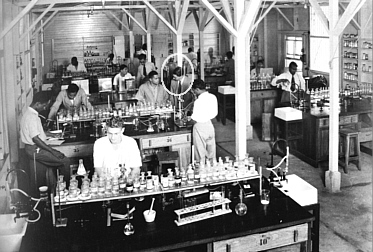 Professor Hassall (partially hidden) supervising an early Chemistry Class (about 1950).
A more recent picture,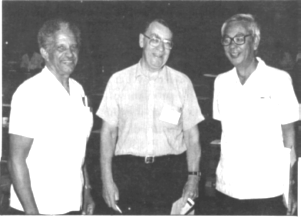 taken at the 12th Mona Symposium in 1988, shows him with two other former Heads of Department, namely Professor K.E. Magnus and Professor W.R. Chan.
The 50th Anniversary of the Department was celebrated in 1998 and Professor Hassall was able to attend a number of functions.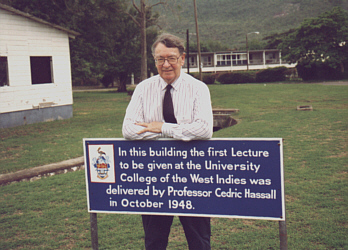 He is seen here outside the original Chemistry building.
A scholarship, named in his honour, is awarded to a final year student who is currently majoring in Chemistry based on results from the first year of Advanced Chemistry Courses.

---
Copyright © 2003 by Robert John Lancashire, all rights reserved.


Return to Chemistry, UWI-Mona, Home Page
Created and maintained by Prof. Robert J. Lancashire,
The Department of Chemistry, University of the West Indies,
Mona Campus, Kingston 7, Jamaica. Created May 1996. Links checked and/or last modified 22nd December 2003.
URL http://wwwchem.uwimona.edu.jm/chassll.html