The Jamaican Star Apple
The star apple tree Chrysophyllum cainito is a native of the Caribbean and Central America. It is a member of the Sapotaceae family which includes over 150 species of tree found in tropical and sub-tropical regions.
In Jamaica, it is fairly common and well known for the luscious fruit and its use as a shade tree. A mature tree attains a height of over 15 metres with a trunk of nearly a metre in diameter.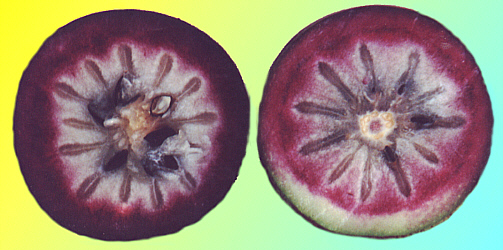 A cross section of the fruit showing the characteristic star-shaped seed pattern.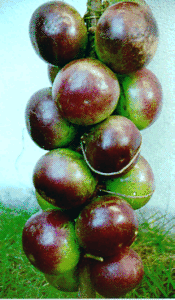 Ready for sale at the market.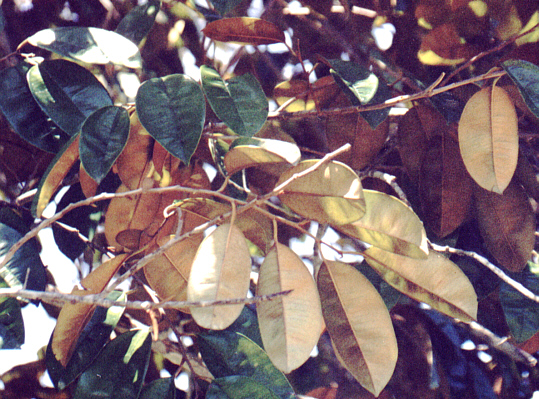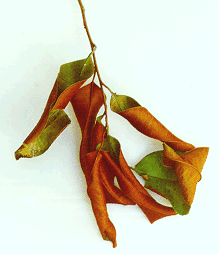 The leaf is golden underneath and green on the top. (The photograph on the right shows a sample a bit too dried out!).

During the training session (22-24th April, 1996) on the use of the PE Lambda 19, the reflectance attachment was tested. A spectrum showing the reflectance of a piece of star apple skin is available in JCAMP-DX format. An acetone extract produced the following Vis spectrum.
In the USA, the fruit has not achieved widespread acceptance although recognised as being very tasty. In Florida it is reported that about 6 acres are commercially grown and harvested.

A recent study of the antioxidant properties of star apples identified a number of poly-phenols[2] and anthocyanins[3], including:
(+)-catechin,
(-)-epicatechin (up to 7.3mg/kg of fresh weight),
(+)-gallocatechin,
(-)-epigallocatechin,
quercetin (highest antioxidant activity),
quercitrin,
isoquercitrin,
myricitrin
gallic acid
and cyanidin-3-glucopyranoside

A 2002 Cuban study[4] of the volatile constituents in a sample of starapple used GC/GCMS and identified over 100 components. Terpenoids comprised the largest class of volatiles (36.4%); the composition of the other classes of compounds was as follows: aldehydes and ketones, 20.1%; acids, 9.7%; esters, 7.8%; alcohols, 7.1%; N-compounds, 1.3%; and others, 17.5%.
The major constituents found in star apple volatiles were (E)-2-hexenal (0.25 mg/kg), 1-hexanol (0.09 mg/ kg), limonene (0.17 mg/kg), linalool (0.09 mg/kg), α-copaene (0.13 mg/kg) and hexadecanoic acid (0.11 mg/kg).
---
Reference
1). "The Star Apple- A Symbol of Meanness in Jamaica", by John Rashford, Jamaica Journal, 24/1, June 1991, p49.
2). L.S. Einbonda, K.A. Reynertsona, Xiao-Dong Luo, M.J. Basile, E.J. Kennelly, Food Chemistry, 84, (2004), 23-28.
3). Xiao-Dong Luo, M.J. Basile, E.J. Kennelly, J. Agric. Food Chem. 2002, 50, 1379-1382.
4). J. Pino, R. Marbot and A. Rosado, Flavour Fragr. J., 2002, 17, 401-403.

---

Return to Chemistry, UWI-Mona, Home Page

Copyright © 1996-2013 by Robert John Lancashire, all rights reserved.

Created and maintained by Prof. Robert J. Lancashire,
The Department of Chemistry, University of the West Indies,
Mona Campus, Kingston 7, Jamaica. Created 2nd April 1996. Links checked and/or last modified 25th November 2013.
URL http://wwwchem.uwimona.edu.jm/lectures/starapp.html