The chemistry of naseberry
Introduction
Naseberry (Manilkara zapotilla, Sapotaceae) is native to Central and South America. The tropical fruit tree may grow as tall as 30 m in Jamaica and it is tolerant of dry conditions.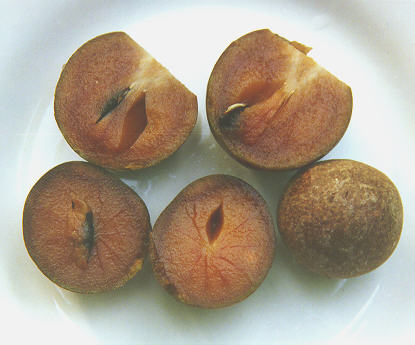 Chemistry
Sugars
The first report of the total soluble sugars for some varieties of naseberry found between 20-25% [1] while the reducing and sucrose sugar content was 6.1-9.6% and 1.8-3.4% respectively.

A more recent study [2] on the glycemic index (GI) of fruits found that naseberry had a rating of 57 which was attributed to the high dietary fibre content 7.9%, fructose level of 5.3g and the presence of starch 0.8g per 100g portion.

Polyphenols
The fractionation [3] of a methanol extract from naseberry fruit resulted in the isolation of two new antioxidants:
methyl 4-O-galloylchlorogenate
4-O-galloylchlorogenic acid,
both with high antioxidant properties, along with eight known polyphenolic antioxidants, namely:
methyl chlorogenate,
dihydromyricetin,
quercitrin,
myricitrin,
(+)-catechin,
(-)-epicatechin,
(+)-gallocatechin,
and gallic acid.

Pigments
Alkaloids
Volatiles
References
1). R.K. Jain and S.K. Jain, Journal of Food Engineering 37 (1998) 323-330.
2). M.T.B. Guevarra and L.N. Panlasigui, Asia Pacific J Clin Nutr (2000) 9(4), 303-308.
3).J. Ma, X-D. Luo, P. Protiva, H. Yang, C. Ma, M.J. Basile, I.B. Weinstein and E.J. Kennelly, J. Nat. Prod. 2003, 66, 983-986.

---
Return to links to the chemistry of other Jamaican items, including spices and fruit and vegetables.
---

Return to Chemistry, UWI-Mona, Home Page

Copyright © 2005 by Robert John Lancashire, all rights reserved.

Created and maintained by Prof. Robert J. Lancashire,
The Department of Chemistry, University of the West Indies,
Mona Campus, Kingston 7, Jamaica. Created January 2005. Links checked and/or last modified 11th January 2005.
URL http://wwwchem.uwimona.edu.jm/lectures/naseberry.html