Guava
Introduction
The guava (Psidium guajava) is a small evergreen, native of tropical America. It was noted by the early European explorers in Mexico and Peru and is now widely grown throughout the tropics. It is a member of the dicotyledon family Myrtaceae, along with pimento (all spice), cinnamon, clove and nutmeg.

In 1981, total world production was about 500,000 metric tons of fresh fruit of which India produced 165,000 and Jamaica 3000.
There are a number of different species and numerous cultivars ranging from white-fleshed sweet types to pink-fleshed sour types.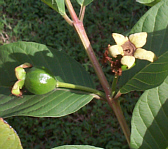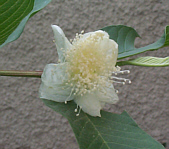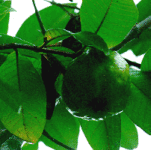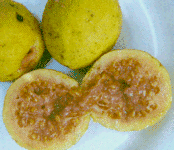 Chemistry
Sugars
Carbohydrates are the principal nonaqueous constituents of guava totalling about 14.8 g/ 100 g of fruit pulp. Of this nearly 6 g is made up of fructose (58.9%), glucose (35.7) and sucrose( 5.3%).
Acids
The total acidity of a range of guavas has been quoted as between 14-18 mg per 100 g and ascorbic acid was found to vary between 62-364 mg/ 100 g. The tartness of guavas has been acsribed to the pH of around 3-4 which comes about largely due to the presence of malic and citric acids.

Pigments
The lycopene content of the Beaumont variety has been found to be about 5-7 mg/100 g fruit. This gives rise to the pink colouration.


Volatiles
Over 150 compounds have been identified in the volatile flavour constituents of guavas. Some of these include:

benzaldehyde
alpha-copaene
2-methylpropyl acetate
hexyl acetate
ethyl decanoate
α-selinene
References
"Tropical Fruit Processing", Edited by J. Jagtiani, H.T. Chan, Jr. and W.S. Sakai Food Science and Technology, A series of monographs, 1988, Academic Press, Inc., 1250 Sixth Avenue, San Diego, California, 92101.
"Food Flavourings", Edited by P.R. Ashurst, Blackie Academic & Professional, an imprint of Chapman & Hall, Wester Cleddens Road, Bishopbriggs, Glascow, G64 2NZ, UK. 2nd edit. 1995.

---
Return to links to the chemistry of other Jamaican items, including spices and fruit and vegetables.

---

Return to Chemistry, UWI-Mona, Home Page


Copyright © 1997-2014 by Robert John Lancashire, all rights reserved.

Created and maintained by Prof. Robert J. Lancashire,
The Department of Chemistry, University of the West Indies,
Mona Campus, Kingston 7, Jamaica. Created May 1997. Links checked and/or last modified 8th August 2014.
URL http://wwwchem.uwimona.edu.jm/lectures/guava.html