UWI-Mona, Chemistry Laboratory Manuals
We hope to be able to provide some experiments here that we have found to work well under our conditions.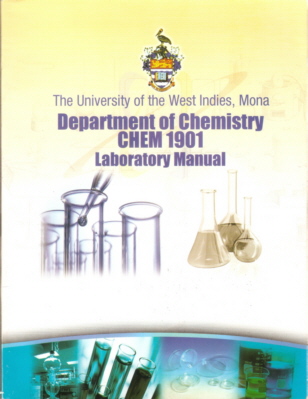 Our first year class sizes have recently grown to over 550 (CHEM1901/CHEM1902) and our largest laboratory holds 54 with two streams run most days and an additional stream on Saturday. The Advanced Laboratories have between 40- 120 per class (Analytical - CHEM2011, CHEM3011, Inorganic - CHEM2111, CHEM3111, Organic - CHEM2211, CHEM3211 and Physical - CHEM2311, CHEM3311) whilst the class sizes of the optional courses are generally under 40.
The Food Chemistry courses can accommodate up to about 30, whilst the Industrial/Environmental Chemistry intake is up to about 50.
These experiments are distributed online as a service to our students and staff. They are designed only for use in our laboratories, under an appropriate level of supervision by qualified chemistry staff. Appropriate safety training and proper disposal of chemical waste is assumed. Other users of the information posted on this site assume all responsibility.
---

Return to Chemistry, UWI-Mona, Home Page


Copyright © 1995-2014 by Robert John Lancashire, all rights reserved.

Created and maintained by Prof. Robert J. Lancashire,
The Department of Chemistry, University of the West Indies,
Mona Campus, Kingston 7, Jamaica. Created Oct 1995. Links checked and/or last modified 4th September 2014.
URL http://wwwchem.uwimona.edu.jm/lab_manuals/index.html