How To Reach Campus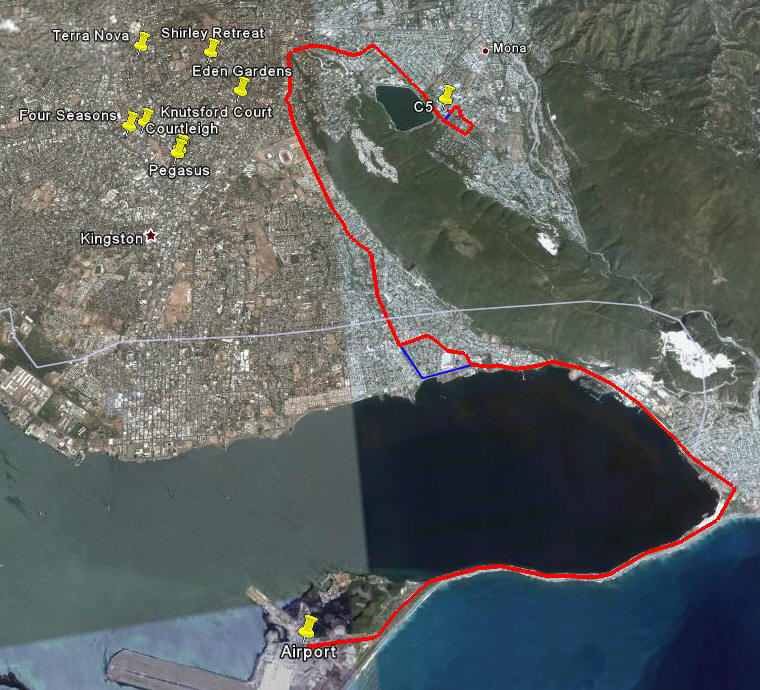 This Picture Links to Google Earth
Alternatively, check out the tourist information and maps of major cities and towns of Jamaica or a simple schematic view. Other Tourist links can be found on the miscellaneous bookmarks page.
From the airport
A taxi from the Norman Manley International Airport will take about 30 minutes and should cost less than the equivalent of US$50. It is advisable to agree on the price of the journey before you start. Fares to popular destinations are now posted at the two international airports and at most hotels. Take only official taxis (many carry red PPV number plates) eg those organised by JUTA (Jamaica Union of Travellers Association). A JUTA desk is just outside the Airport customs area.
From Tinson Pen (Trans Jamaica flights) expect a similar time and cost.

Hotels
On the map (marked with yellow tacks) are some hotels frequently used by visitors to the University. Travelling to campus from any of these hotels is easiest by taxi, since although there are bus routes which have stops at campus, the buses are often crowded and their times are not always regular.
In addition to the hotels below, there is limited accommodation available at the Mona Visitors Lodge (formerly SCR Hotel) on campus.
The hotels are arranged by price, least expensive at the top.
Prices are usually quoted in US dollars, and vary with season but expect to pay a minimum of $100 a night and a maximum of $350.

Car Rentals
Many of the major car rental agencies (Hertz, Budget, etc) have outlets in Kingston and arrangments can be made with overseas offices. Advanced bookings are advised to avoid disappointment especially during the main tourist season. Costs average around US$100 a day with discounts for longer periods. A large deposit is nearly always expected. To rent a car you must be 25 years old with a valid drivers licence and major credit card. A North American licence is valid for 3 months per visit while those from the UK are valid for 12 months per visit. A Japanese licence is only valid for 1 month. Please note that we drive on the left and that the speed limit is 50 km (30 mph) in towns, 80 km (50 mph) on highways and 110 km (70 mph) on toll roads.

Avis or Bargain Rent-A-Car, 1 Merrick Avenue Kingston 10, (876) 926-8021, and at Norman Manley Airport, (876) 924-8542, email: info@bargainja.com, URL: avis.com.jm
Beaumont's, 56C Brentford Rd., Kgn 5, (876) 926-0311 fax (876) 920-4399, URL: www.beaurental.com
Budget, 53 South Camp Rd., (876) 759-1793 and at NM airport (876) 924-8762 fax (876) 974-2741 URL: www.budgetjamaica.com email: budget@jamweb.net
Fiesta, 14 Waterloo Rd., Kgn 10, (876) 926-0133, in the USA 1-800-934-3782 fax (876) 929-3801 and URL: www.fiestacarrentals.comemail: fiesta@kasnet.com
Hertz, at NM airport (876) 924-8028 URL: www.hertzcaribbean.com/
Island Car Rentals, 17 Antigua Ave., Kgn 10, (876) 926-5991 or 926-8012 and at NM airport (876) 924-8075 or 924-8389 URL: www.islandcarrentals.com
Kosmo, 14-16 Worthington Ave., Kgn (10), (876) 920-1192-3 and at NM airport (876) 924-8388 or 924-8775, fax (876) 920-1194, in the USA 1-800-646-3468
Sunbird, 13 Cargill Ave., Kgn 10, (876) 929-1086 or 929-6647 and at NM airport (876) 924-8665 or 924-8065, in the USA 1-800-306-5053
Alternativley you can search our online yellow pages or caribbeanonlineyellowpages.com
Telephone numbers last checked: 03rd July 2007.

Interactive Map


View Larger Map

Go to latest Mona Symposium Pages

---
Copyright © 1995-2013 by Robert John Lancashire, all rights reserved.


Return to Chemistry, UWI-Mona, Home Page Created and maintained by Prof. Robert J. Lancashire,
The Department of Chemistry, University of the West Indies,
Mona Campus, Kingston 7, Jamaica. Created Feb 1995. Links checked and/or last modified 18th February 2013.
URL http://wwwchem.uwimona.edu.jm/kgnmap.html