Chemistry, UWI-Mona, Staff Research Interests.
The research facilities in the Department are primarily used to support the following major interests:
a) Natural Products Chemistry, including Microbial Chemistry,
b) Industrial Chemistry,
c) Food Processing,
d) Environmental Chemistry,
e) Inorganic Reaction Mechanisms,
f) Transition Metal and Bio-Inorganic Chemistry,
g) Pesticide Chemistry,
h) Materials and Energy
i) Theoretical Chemistry, Molecular Modelling and other computer applications.
---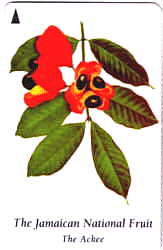 "ackee, rice, salt fish is nice and the rum is fine any time of year"
Some of the earliest research work in the Department, concerned identification of the toxin in uncooked ackee, our national dish. The structure of which will be displayed if you click on the ackee seed.
---

Return to Chemistry, UWI-Mona, Home Page

Copyright © 2003-2009 by Robert John Lancashire, all rights reserved.

Created and maintained by Prof. Robert J. Lancashire,
The Department of Chemistry, University of the West Indies,
Mona Campus, Kingston 7, Jamaica. Created March 1997. Links checked and/or last modified 4th January 2009.
URL http://wwwchem.uwimona.edu.jm/chemres.html